September 26, 1998 - post by KoKain

Long time now see....

Well its been a really long time since I was supposed to take over the webpage and when I actually did but I think that it shouldn't be a problem for me now. Anyway plague stuff. I have been working on a map whos main goal is to escape through the sewer system and then up through a warehouse. After about 6 or so restarts on the level due to numerous things I have finally been about close to finishing. Theres hardly anytime for me to work on it but I do try my hardest to finish it whenever the time may come. I might see if I can post a screen of a part of the level sometime soon.

September 11, 1998 - post by FatalCure

Programmer needed...
We require a programmer to do some reasonably basic coding stuff, if you can help out let me know

Decisions...
After much pondering we have come to the conclusion that our original goals were to ambitions, now unlike most TC's which once this is realized usually disband or start and new project which will most likely suffer the same fate we have decided that by using/recycling parts of Q2 we can actually finish the partially total conversion (not quite a TC but more than what is considered a PC).

One of the ways we are going to do this is by reusing models since we havent been able to find a modeller that could actually finish one himself anyways. So without further adu here's a prelim shot of the FBI dude, its still in progress though, the unskined colt .45 aswell also seems to have made it into the screenshot.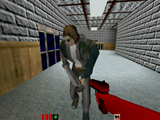 .

Where the hell we went...

Where I went - to my cottage then I learned how to model, I'm currently still finishing up levels and doing a bit of skinning

Where Ironic, our coder, went - I dont know, but if you email him maybe he'll tell you anyways he just quit due to time constraints and his vision that the TC will not be completed (due to the fact the he had the time constraints and no coding is getting done but thats another story) Want to remedy this? Code for our TC, email Fatal now.

Where the webpage went - No where, which is a problem, sorry been busy with either the TC (non webpage related) or Real Life which as you could guess is also not related to the webpage.

From now on our new mapper KoKain will be taking over the majority of the webmastitorial (is that a word?) duties since I obviously suck at it; to confirm this check the date of the last update.



Progress...
Three of the weapons for the tc are now fully modeled and just need to be skined, I may put up something from them up soon, just waiting for the skins to be done before doing so.

Downtown -
Right now I'm taking a slight break from Plague 1P map work and have decided to submit a map to PC Fans Contest to redo Doom2's Downtown (map13) for Quake2 or Unreal. You can follow my progress here. I may be porting the map over to Plague once I've done the straight Q2 version also, I had thought about doing it in Unreal, but the engine is too slow for the size of map that has to be used, I'm going to have enough trouble keeping the map smooth in Quake2.

Help Wanted!
Right now we really need an enviroment map artist still and we also need a skinner so please apply if you think you can help.

3rd Update of the Day (Wow!)
I was playing around in 3DSMax and low and behold I updated the site logo into what I think is a cooler 3D version, but even it doesn't do the high res tga version I scaled it down from so heres a link to the original high res logo in jpg format, and you can also download the zip of the same image in tga format for zero quality loss.

[ Highres Online JPEG ] [ 32 bit TGA Zipped (~700k) ]

While I'm at it here are the two pics that as of now are local, and are RESE2M1, and RESDM2 respectively, someday I'll put 'em in the screenshot section but dont have time right now.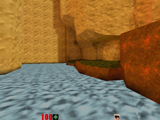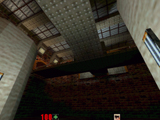 Progress
I've been working all day on levels mostly E1M1 and E2M2 which are Office Buildings and Area51 respectivly, been creating some new textures while visually tweaking in other ways as well the screenshot below that was posted earlier is from DM2, which is a map I may also be converting to 1P, I'll have the two screenshots that appeared or should have appeared on converted2 as pics of the day up hopefully later tonight locally.
Enviroment Artist
We really need someone to produce kick ass skies for Plague, so please let me know if you think you can help
Requirements
Right now it looks like minimum reqs for Plague will be around a P120, with an OpenGL capable card highly recommended, the game currently looks great in GL, quite shitty in highres software and a bit better in lowres software, it looks better in low res software because texture/model etc colour dithering looks less obvious, this is more of a problem with Plague than it is with quake2 because Plague has a larger variety of colours, so slightly less of each. Of course I have a feeling most people either run q2 in GL or low res software so hopefully this wont be that big a deal. Currently final harddrive room is undetermined, but it is likely to be under 25mb for the zip.
Site Status
Shortly Ironic will be taking over the majority of updating for the site, since I've found I just dont have time to manage Residue and do map work and the page, as you can tell from the usually huge gaps between updates. We also a while ago passed 10000 hits (over both counters), I'd like to thank everyone who's visited the page and keeps an interest in what we're doing.
Screenshot
As promised here's a new shot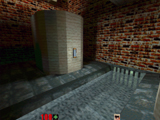 The majority of this post should have been up a while ago but some uploading problems arose so here the update is.

Progress...
We've had numerous problems from various members in assembly the internal alpha of the TC, Raskal decided that the player model we had wasn't up to perfection and has gone back and made it look even cooler then it allready did, aswell as adding vwep support that goes beyond the original vwep specs allowing for switching animation between guns amoung other stuff. The weapons guy had like 5 hard drive crashes so he wasnt able to get his models in on time, and two other people unexpectantly went away, however fear not were are still moving along to our 'for us to know and you to find out' release date.

Screenshots...
Tomorrow we will be most likely releasing some screenshots onto the webpage

Join Residue...
We're looking for an enviroment map artist to do kick ass skies for Plague, mail me if your interested

Site Stuff...
Based on the feedback I got from people it looks like I'll be keeping the colour scheme the same while possibly redoing some graphics, adding new ones for subsections and


Stuff is happening
For the first time since Plague's conception model production is finally up to par, the player model is pretty much done now, and it just needs to be skinned, were in the process of integrating the M16 into the code (as close to the exact specs as possible of course). I'm thinking about doing a possible graphic overhaul on this site, and adding various stuff such as java utilization in the menus etc, and maybe a message board. Let me know what your opinion is on the site and whether I should add java or not, and how important loading speed of webpages is to you since your the people that look at the page I believe you should have a say in whether it does or not.

Contest Update
Just a few things, it has been refined to just a symbol contest since we don't want alot of people confusing what we want with graphic titles that appear on webpages (ours for example)

The deadline will be May 22 for contest entries, all of Residue will vote on which we like best and then we'll display it along with the other entries probably on the 24th or so.

Misc
The info page has been updated with some new stuff


Progress Update
I finally did some maintainance and archived the old news so that the page should load much faster, the project has been moving along at a reasonable clip, and the player model is nearing completion finally.

Symbol Contest
Residue has decided that we are going to have a contest to design a symbol for Plague, there are no real restrictions to designing it, if we choose your logo you will be able to download or recieve all of the internal releases of the TC

Submit all applications to fatalcure@quake2.com Please use logo contest as the subject