Just decided to throw up another screenshot to prove we're still progressing, its from the library of the first level, we now have a modeller Raskal who is currently working on the player model which is starting to look pretty cool, I'm currently tweaking 2 levels before moving on to new ones. I'd also like to ask any level designers if they are willing to work hard to apply as we are fairly short of level designers currently. BTW the rest of the site is somewhat out of date, especially the links section, I will try to find time to bring the rest of the page up to par ASAP, and I'll at that time probably archive old news.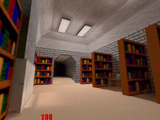 Just a brief update to let you know that we are not dead, and to clarify on release dates a bit, we were originally planning for an early year release however obvisiously this didn't happen, although we have had various modellers join the team briefly but then quit again before we got anything from them. We haven't had anyone that was dedicated, and productive enough to get some of the larger models done, so until we do find such a person we obviously cannot finish and release the TC. Feel free to apply your self if you are a modeller and are up to the task. The other areas of the TC are coming along nicely and are on target to be done by late spring or summer. I would also like to appologize for the infrequency of the updates on this page and will try to update more in the future. We should be posting some new screenshots in the near future.
Well here it is the first screenshot released of Plague running on the Quake2 engine, the area being shown is still very much under contruction though so there is a good chance the area will change.
I also got the chance to revamp the screenshot area, so now people will know what screenshot was taken from where, as there seems this has caused a bit of confusion since people couldn't tell if some of the screenshots were from q1 or 2. Since quake2 lets you change the FOV to get rid of the weapon we now wont have to look at the ugly pink thing any more.
Well for a while progress on Plague has been haulted due to various problems in the way quake2 handles palettes, but we have finally worked out the problems atleast to some degree and now are back into production. We are still in desperate need of help with the project but atleast now we are working hard to get the tc done. So hopefully soon we'll have something new to show.

We are in desperate need of modellers, and level designers now so send in those applications


Just letting you know we arent dead or anything, despite the fact that we are working with a skeleton crew currently. (send in those applications!) Frozenshade who was currently doing models for Plague has recently been working on a cool .cin residue animation, which may or may not be released before the tc is, we are still working out technical issues with the tc(palette stuff, read my post on converted's message board for more info) and ironic is starting to impliment some really cool secret game design things. My deathmatch level for standard quake2 is nearing completion and will be downloadable from here when its done. (it will eventually become a plague dm level).

Also I re-added a link to my dot plan

The 3 new screenshots from the interview with milamber are now up locally, so go check 'em out in the screenshot section


January 22, 1998 - later that same day...

Wow, two updates in one day, something must be wrong :-)
anyways I fianlly got some time to work on the other area's of the site so now everything should be up to date
The team section has finally been finished and updated, now I have to start working on the other sections of the site.


Did a brief update to the features page, the members/team page is still really out of date, but I will try and fix it up ASAP,
the release date of plague may also slip, due to the massive amount of shifting in the team going on, however we will soon be able to start releasing screenshots and stuff again.

Departures:

Frozenshade - lack of time

Parn - lack of time/RL

Skitzo - disapeared

Deathwish - disapeared

Wow another long time between updates, but no we haven't been doing nothing in fact we are probably being more productive now then we have even been in the past, hopefully I will soon be able to put up something new for you to look at, the plague team has done some growing since the last update:

New team members:

Nim!Rod - our sound guy

Wondercow - modeller

IrONic - coder

Sorry this page hasnt been updated in a while, we are currently dealing with the q1 to q2 conversion and the issues surrounding that, soon regular updates will return again.

The other pages on the plague site are kinda out of date right now, they will be updated shortly

Team rumblings: Rage dropped out of the TC and Skitzo33 has joined as a level designer.

This is the newest shot from mission 1, also if you send me and email regarding plague and I dont reply chances are my isp screwed it up, so keep sending it until I give you a reply, the conversion of the bulk of the work for plague to quake2 will begin shortly.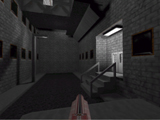 Here is a new screenshot from Mantis's level: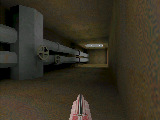 The web page has had a complete makeover, and the problem of graphics in the remote area has been fixed, the info/features list has also now been moved over to the menu bar area.

Quake2 is almost out (yay!), work on coding will start slightly after that

The old news has been taken down, and will probably be archived later


The Plague page has risen again! After working out some problems we have arrived at quake2.com, a graphic overhaul will be done on this page, within the next few weeks.

If you are wondering why we dispeared for a week or so before reapearing the reason is that just after we had decided to move to quake2.com some idiot on mindtrap deleted everything on the server including the plague page, and didnt want to re-upload everything to mindtrap since we were moving