Sat. Feb 20th - VISUAL SCONFIG!!! Edit your config.txt file without loading up a text editor, great work Mark Rissmann!! DOWNLOAD IT TODAY!!

Download v3.2 for Linux or Win 9x/NT today!

After you download v3.2, be sure you get the v3.3 patch right away. Go to the download page and get the .dll only patch,


HIGH SCORES! Fully compatible with L-Fire DM and high scores WILL WORK for EVERY LEVEL (with no system admin interaction!), not just q2dm1 - q2dm8! New version also offers FULL SUPPORT to allow players to enter chase cam while IN THE GAME (server admin can allow players to keep scores or reset scores who use this feature). Fast Weapon capability (on by default), and the MOTD is also accessible from within the game. IP Filtering/Banning and automatic server map rotation (for those running multiple servers).

For those of you that are running another MOD or straight DM please take a look into this release, as it has almost everything but the kitchen sink, and as always, just about every settings can be tweaked or turned on and off to you and your players liking!




** Check out and join the online forum! **

Many of you have asked where the files get installed. Here's a simple topology of what gets unzipped and where it gets placed. Note: The MOD will now install itself into the sconfig30 subdirectory and you will also get a subdirectory entitled 'highs'. Enter the ServerConfigMOD site to find out more!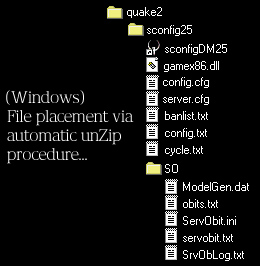 Currently there are two distributions for Win9x/NT. One file is for those server operators who have installed ServerConfigMOD in their C:\Quake2 directory and one for those who have installed it into D:\Quake2. Linux version promised before the end of the month... Stay patient! :-)

Have it installed somewhere elese? No problem, click here to find out what you need to change. It's actually very, very simple!

See a sample of what you can make your server do! Visit the SDSC RoadRunner's server (Quake 2 IP:24.93.27.49)! Take the site tour and look at the documentation to get the rundown on ALL the features! Questions, need help? E-mail sconfig@quake2.com! You also can also post to the online forum.