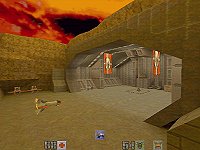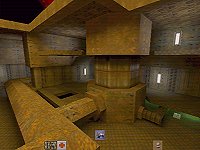 author: Wiebo de Wit. this archive contains two levels, iao1.bsp and iao2.bsp. they're designed to be played in a linear fashion with no backtracking.

the first level, "Distribution Central", begins with an adequate origin and an excellent F1, despite the misspelling/typo. the first thing that strikes you (as it struck me) is both how huge and how beautiful the hangar is (see the top shot). despite the size of this thing, which dwarfs the player, it runs very smoothly and quickly from any angle. the architecture throughout this level has been most excellently done; details are kept to a minimum, which gives the detailed structures that do appear that much more effectiveness. what impressed me were the small touches that provided a bit of continuity through the level; case in point, those excellent little lighted computer terminals. the size, shape, proportion, and light applied to them make them look convincing and "real". the fact that they're used in numerous places only adds to the immersiveness; it's often-overlooked details like this that can make or break a level. the flow is linear and the pacing is tough. though you're never really wanting for a weapon, the monsters have been selected and placed with an eye to their strengths, so they're tougher than they might otherwise be. specials have been used well; the best one so far was the combination tank commander/exploding wall one.

"The Slime Pump" is the second level of this pair. the continuity is good, and the F1 is informative without being too specific. this level is larger than the previous, with play areas being generally large with plenty of running room. the structures in this level are mostly piping, but the author has done a very good job varying the sizes and styles, giving the impression that this is truly a functional area. running speeds are smooth throughout. the flow is semi-linear, and the pacing is nice and tough without being overwhelming. the secrets in this level are hidden, but not overly so, and are fun to find; i especially enjoyed the backpack one. the monsters here drop appropriate items when killed. the endgame was a bit tougher than i expected, probably because i was looking for some kind of switch to open the hatch. nitpick: it's possible to get permanently stuck in this level.

all in all, a fine addition to your Quake2 level collection (i'm keeping it for sure) and recommended.