AWE 64 Gold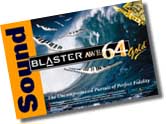 ---
It's Pc Games grade A Sound Card! This looks like A great Card For Quake2! Here the Review.
Company's Review click to read
My review I have happen to like Creative Labs's Sound cards, My first Card was A Sound Blaster and it was very cool (well at the time it was:). I have heared the AWE 64 Gold and with the music that will be with Quake2 don't be suprised to be BLOWN AWAY! This is one of the best Cards money can by. Buy it for All your games and QUAKE2!
Price WOW $199 for a great Card!
System Requirements:
Intel Pentium 90 or higher processor
8 MB system RAM (16 MB recommended)
DOS 5.0, Windows 3.1 or Windows 95
Open, half-length 16-bit ISA slot
Speakers or headphones
CD-ROM drive for software installation
Grade A+