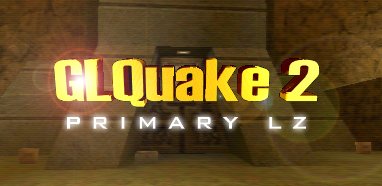 Supported Chipsets
---
March 28, 1998
BACK
I'm finally back from my trip to Portland....which was wicked. My visit to a LAN shop in Portland went great. I never got out to Intel, due to my schedule there. Also, its impossible to get ahold of a Voodoo2 board in the Portland area - sold out.

Drivers
Here's what has been released in the past week:
New Monster3d drivers
New 3Dfx GLQuake & GLQuake2 miniports
Diamond Viper v330 drivers with Win95 OpenGL support
New Flash3d drivers

March 22, 1998
Rendition V2x00 OpenGL ICD
A couple of days ago, Rendition released the alpha version of their OpenGL ICD for Verite 2100 and 2200 boards. If you aren't planning on doing any full OpenGL things, such as making Quake2 levels with an OpenGL level editor (qe4), you don't need them. The GL miniport suits you fine for GLQuake and GLQuake2. However, if you want the ICD, get it here.

LiMbO is going out of town
The Primary LZ will not be updated until Wednesday or so, due to the fact that I (LiMbO) will be going on a trip out of town. I get to goto Portland, Oregon, and do various things, such as go play Quake on a 20 node LAN, visit Intel (hopefully get to see the i740 chipset), and possibly find a job up there (Portland is a city with ALOT of open jobs in the computer industry). So, if you're not getting a reply from an email, it means I haven't seen it yet.

40,000th hit
We passed the 40,000 hit mark early this morning! Thanks to everyone for visiting our site, we hope to keep information pouring in! Special thanks to our hosts, Quake2.com, for supporting us.


March 21, 1998
New version of Quake2 Executor
Beta4 of Quake2 Executor has been released! There are tons of new features implemented, along with CTF and 3.14 support. Check the Quake2 Executor section for downloads.


March 20, 1998
Supported chipsets
Ok, the time has come to open up a small section telling what chips support GLQuake2 and in what operating system. We've gotten way too many emails with the question 'does my S3 Virge DX chip support OpenGL?'

New Pure3d drivers
Canopus has released new Windows95 and WindowsNT drivers for the Pure3d. They're in the drivers section.


March 19, 1998
More drivers
3dLabs has also released new drivers for their Glint 500TX and Glint MX chipsets for the Intel-based WindowsNT 4.0 platform. They are in the drivers section.

New Permedia2 drivers
3dLabs has released new Permedia2 drivers for Windows95 and Pentium based WindowsNT systems. You can get them in the drivers section.


March 17, 1998
Lack of updates, Quake2 Executor
Sorry, updates have been lacking - things will change soon. Beta4 of Quake2 Executor will be available once the documentation is finished, which will be tonite.


March 14, 1998
3Dfx Voodoo2 reference drivers
3Dfx has released Voodoo2 reference drivers, you can get them in our drivers section. Here is a quick link.

Win a Voodoo2
This site, which deals with E3, is running a contest, and one of the prizes is a 12Mb Creative Labs Voodoo2 board. Other prizes include what looks like a trip to E3 and a 56k modem.

Quake3 - 3d accelerator REQUIRED
Everyone must know about this by now. As stated earlier by John Carmack, id software will be scrapping their mission pack for Quake2 and making it into a whole new game: QUAKE3. For Quake3, you will be REQUIRED to have a 3d accelerator - there will be no software renderer in the game. On top of that, Carmack made a guess about current 3d technology's capabilities with this new engine. Voodoo2, Rendition v2x00, and the i740 chipset will all run Quake3 at an acceptible performance rate, and the Voodoo1 will as well, but at a slower speed. As for Riva 128, it misses one feature that id wants included, but it should run as well as a Voodoo1 board. The current boards that will not work well are Permedia2, PowerVR PCX (and PCX2), and Rendition's v1000 chipset.

Quake3 will more than likely use OpenGL as its graphic API, since both John Carmack and Brian Hook prefer OpenGL over Direct3d.


March 11, 1998
Quake2 Executor
Jazz is nearing completion of Beta4 of the Quake2 Executor, and we will release it once its done. Beta4 will feature more options to tweak/change, along with added config settings. It will also have 3.12/CTF support. We are currently working on the documentation of Quake2 Executor, and will have it and the program up ASAP. If there is anyone out there with ftp space and wants to be a download site for Quake2 Executor, email us.


March 7, 1998
Driver updates
VideoLogic has released drivers for all of their Apocalypse series, which are PowerVR-based boards. The updated drivers are in our drivers section.


March 4, 1998
More Riva stuff
The particle size fixes for the Point Release (and later versions) have been put in the Riva 128 section.


March 3, 1998
Help a fellow Quaker out :)
A friend of mine got into a car accident today, and I ask that you think about him the next time you start up Quake or Quake2. He's a cool guy and I hope he's back to normal soon. :)

Senate grills Microsoft/Bill Gates
On C-Span and CNN today, the CEO from Sun Microsystems, Netscape, and Microsoft sat down at a hearing concerning the internet and Microsoft's so-called monopolization tactics in the industry. The highlight of the meeting was when the Netscape CEO blatently slammed on Internet Explorer about its tendencies to crash. For me, I found it more like two hours of 'see who can slam on Bill Gates/Microsoft the hardest'. Unfortunately, this hearing didn't have anything to deal with another field in which Microsoft has been blamed to be cornering: 3d API's. Microsoft has been pushing Direct3d over OpenGL as its primary 3d API for their operating systems, and well...that isn't good. As most everyone knows, Id Software has been the primary company developing OpenGL versions of their games, and kicking Direct3d aside. Perhaps in the future we can see the CEO of SGI, Bill Gates, and John Carmack sit in front of a senate panel and watch the sparks fly. :)


March 2, 1998
Riva 128 OpenGL settings for the Point Release
Axoman sent us some information about how the Point Release does something to the particle sizes when running in OpenGL off a Riva 128 board. Here's the email I got from him, describing how to fix the problem:

I have found out that with the new versions of quake2, 3.12-3.13, that the particle settings are very small when playing with the RIva openGL. In order to make it look better, here's some settings I recommend when running at 640x480.
gl_particle_size 40
gl_particle_min_size 2
gl_particle_max_size 40
gl_particle_att_a 0.01
gl_particle_att_b 0.0
gl_particle_att_c 0.01
Once you set them, you'll need to type "vid_restart" to activate them, even if they're in your autoexec.cfg. Quake2 will then save them in config.cfg, so that you don't need to set them anymore (or do "vid_restart"). If you're running at higher resolution, you might want to bump up the "gl_particle_size" setting.
"Axoman"


February 28, 1998
nVidia's new chipset
NVidia will be releasing a new 3d accelerator soon, and it appears to be another premiere technology for 1998. Listed in its specs, a new AGP method will be used for better performance, along with a larger framebuffer for higher resolutions at higher speeds. Voodoo2 killer? Who knows.

stuff
Parts of the site have been touched up, the Quake2 Executor section now has information in it. We also fixed the 3Dfx section and took out the global GLQuake2 variables and put them under the speed increases button, where they belong.


February 27, 1998
Canopus and the Pure3d II
There is some more information on Canopus' Voodoo2 board, the Pure3d II. You can see it here.
If you can stand to wait until Canopus ships their Voodoo2 board, it is recommended you do - the Pure3d II could very well be the best Voodoo2 board, just like the Pure3d was for the Voodoo chipset.


February 26, 1998
New Look!
Our news section is now using OCR A Extended as the font, if you don't have it, you can download it here.

Timedemo stuff
Many people STILL don't know how to run a timedemo test in Quake2, so here is how you would do it for the built in demo demo1 for Quake2. Type this at the console for testing the framerate on demo1:

timedemo 1
demomap demo1.dm2
Let the demo play the whole way through and at the end there will be a frames per second notification just like Quake's. After you are done testing the framerate, switch the 'timedemo' function back to 0 or when you play single player everything moves fast.


News Archive