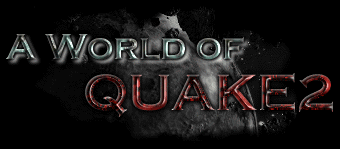 Great Quake II levels and reviews
Now featuring 98 single player and 91 deathmatch levels for your enjoyment!


Did you miss me? Ever wonder what I have been doing all this time? Well, I have been working on my new computer service business called, strangely enough, Paul's PC Services . You can check here to see what that's all about.

I no longer work for PC Gamer so I have a little bit of free time now. Meanwhile, I thought I would do a little site maintenance and fix some links.

I have been working with Neil Manke on his latest level set for Half-Life and boy is it turning out fine! I also had a chance to peak at some other levels for Quake 2 by some other authors as well. Those levels will probably show up here in the near future for all to see. I cant say too much about them as the authors would probably hunt me down and kill me...



After over two years of great levels and reviews for Quake and Quake 2, I have decided to move on to other endeavors in my life and leave the reviewing scene altogether. This site will stay up as long as my host will let it but it will no longer be maintained. If any of the links do not work then... so be it! Please do not ask me where levels are or how to play them. A big thanks go to all the level authors that contributed to this site. Without them we wouldn't have been able to enjoy Quake 2 for as long as we did. Also, a big thanks goes to Mosquito, Stupak, and Sniv for your contributions to this site and to everyone else who have made an impact on this site. Oh yeah... thanks Crash, Matt, Gene, and Eric for all your support and help too. Farewell to all...






Some of the recent old news can be found in the Old news section.



- - Entire contents copyright © 1998, 1999 by Paul Taylor, all rights reserved. --


Use of any of the graphics on this site is NOT allowed without the written permission from Paul Taylor. - QUAKE2® is a registered trademark of Id Software, Inc. QUAKE2® , the stylized reproduction of the QUAKE2® trademark, including, without limitation, the Q in QUAKE2®,and the images depicted in QUAKE2® are the copyrighted property of Id Software, Inc.. -