Before this I've had a pair of acs stereo bookshelf speakers, from what I've heard of those I expected a decent speaker set, but nothing amazing, but I must say, the acs48s are an audiophiles wet dream. I didn't expect near perfect quality out of a pair of $89 computer speakers, but acs proves me wrong. There are some errors in audio quality, but none that should effect gameplay.

For example. I was testing out some of the music quility on Weezer's "Say it ain't so". When the snare drums come in and I turn the volume up in windows up to 100% the sound will crack. Maybe I just got a bad set of speakers, but this part is a little annoying. Anyways, it seems the only song that this is a problem is say it ain't so. In all the other songs I listened to every once in a while on a REALLY loud drum beat it might crack a little. But, if you keep the master volume in windoze to around 90% of so no cracking whatsoever happens. Go figure.

Boddah said it right when he told me what he thought about his 48s (Before, he was using a set of pioneer stereo speakers w/ a 100w sub). He said "My other speakers are sitting in a corner because they should feel ashamed". I couldn't say it better myself. These speakers are a steal.

As for the looks of the system, I like it. I hate those speakers that are like "look at me, I look wierd". For example, the acs55s. Acs stopped selling them because many people have said the same.... I Like the understated look. The speakers are nice and small so they can sit on my desk with my mon, kb, mouse, joysticks, and big ass phone.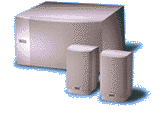 | | |
| --- | --- |
| Drivers (per sat) | |
| | One 3 inch shielded full range driver |
| | One 3/4 inch high frequency tweeter |
| Drivers (Subwoofer) | |
| | One 6 inch long throw woofer |
| Woofer Power | 40w @ 0.8% THD |
| Satt Powe | 20w per chan RMS at 0.8% THD |
| System Response | 35Hz- 20kHz |
Test System:
Pentium 2 233Mhz, Asus P2L97 LX Chipset Motherboard, 96 Megs SDRAM, 6.4 GIG UDMA hard drive u, Creative Labs AWE64, 24X Teac CD-ROM Drive, Cardinal 33.6k modem, Matrox Millenium II 8 Meg, 2x2x6 CD-RW, 17" Mag DX700T, (Note: If you wanna make any hardware donations (;c)) feel free, cantact me or Boddah and we'll talk. Also, if you want to review some hardware that you have feel free to submit a review)
Review by Scream-