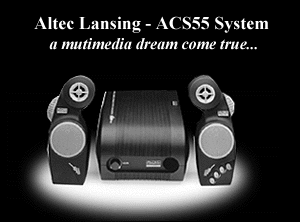 ---
Introducing the multimedia speaker system for the serious gamer and those who demand that extra kick in their multimedia sound performance.
Company Review click to see
My Review - This speaker system is perfect for Quake2. When a enemy shoots you, you will think it was a real gun that went off. With some booming bass and wonderful sound it would go perfect with you computer. un like the S2 HMP this have a very nice price tag. With 40W sugbwoofer at 0.8% THD and Satellite Power 12 Watts at 0.8% grab on to your key board because you will be blown away.
Price - $150.00!
Specs -
Drivers (satellites): Two 3" shielded full range / One 1/2" dome tweeter
Drivers (Subwoofer): One 6.5" long throw woofer
Frequency Response: 32Hz - 20kHz +3db
Satellite Power: 12 Watts at 0.8% THD
Subwoofer Power: 40 Watts at 0.8% THD
Input Impudence: 10,000 ohms
UL/CUL/CE approved