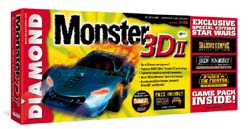 ---
"Its Voodoo2!"
Companies "Words" - Massive 3D Power!
Monster 3D II is a 3D add-on upgrade card that works together with your existing 3D graphics card or 2D/3D combo card. It delivers 3D more shockingly real than anything you've ever seen! Outrageous speed and deadly detail will transform your gaming into a mind-blowing 3D experience. Using the next-generation 3Dfx Voodoo2 chipset, Diamond Monster 3D II simply blows away every previous standard of performance - with up to three times the power and realism of our award-winning original Monster 3D.
My "Word" - I guess this card is the Voodoo Killer! Onw of the best features about the M3D II is that you can have 2 cards in your system!! DAMN THATS AWSOME POWER! Not need to worry about ram Its Packing 8MB of it , that should be enough! And not to forget, it Voodoo2 BABY! YEAH! So reserve yours today of must have Voodoo2! And get IN YOUR FACE "MONSTER" 3D!
Features-
Features NEW! 3Dfx VoodooTM 2 technology
Experience 300% more power!
Explosive speed at over 60 frames/sec.
New! MEGAMonster dual card feature
Three dedicated 3D engines
Accelerates Glide(Voodoo, Voodoo2), Direct3DŽ and MiniGLŽ
3Dfx Voodoo2 controller for outstanding speed enhancements, stunning visual effects, and crisp, clear graphical images.
8MB EDO DRAM -
4MB of frame buffer memory and 4MB of texture memory for 800x600 gaming with Z-buffer!
Accelerated frame rates

over 60 frames per second game play with one Monster 3D II
over 100 frames per second game play with dual cards, using the MEGAMonster feature.

Superior resolution support

800 x 600 game display with one Monster 3D II
1024 x 768 game display with dual Monster 3D IIs

Three dedicated 3D engines on a single card, for triangle rendering and texture mapping that dramatically improve the speed and realism of game images.
Accelerates all Glide (Voodoo), Direct3D and Open GL games for dramatic improvement in the performance of new and existing games.
Advanced 3D Features -
Monster 3D II includes the most advanced 3D feature set available such as: Hardware Triangle Set-up, Anti-Aliasing, Alpha-Blending, Gourad Shading, Texture Mapping and more.
New 3D features include:
Multiple textures per pixel allow for realistic and colorful images
Single pass trilinear filtering for smoother, more defined visuals
Bump mapping through texture compositing for "simulated" phong shading
Edge anti-aliasing for increased elimination of "jaggies"
New MEGAMonster Feature:
Buy two - and get even more insane 3D! Don't push the envelope… obliterate it! Pair one Monster 3D II with a second Monster 3D II card and multiply your performance. Monster 3D II and its twin use Scan Line Interleaving (SLI) to draw alternate even and odd scan lines on your screen - doubling performance and delivering unprecedented color and texture to PC images. Also, receive 1024x768 resolution and game play at over 100 frames per second!
Five year parts and labor warranty
Automatic Driver Notification
Technical services six days a week by phone
24 hour Internet tech support wizard and fax-on-demand
FTP site: ftp.diamondmm.com
Specs
Controller:

3Dfx Voodoo2 Controller

1 Pixelfx2 PCI Interface & Pixel
2 Texelfx2 Texture Mapping

Bus Type:

Memory:

8 MB EDO DRAM, fixed

4MB Frame Buffer
4MB Texture Memory

25ns EDO DRAM (90MHz bus)

Powerful RAMDAC

Horizontal Sync Signals:

Vertical Refresh:

Maximum Dot (Pixel) Rate:

Connectors:

2x x DB-15 analog monitor connector (VESA DDC2B)

Complete 3D Feature Set

Alpha-Blending
Anti-Aliasing
Bump Mapping
Bi-linear Filtering
Fogging
Gouraud Shading
Hardware Triangle Setup
Mip Mapping
Perspective Correction
Single Pass Trilinear Filtering
Texture Mapping
Transparency
Z-Buffering (16 bpz)

MINIMUM SYSTEM CONFIGURATION

Pentium 90MHz or compatible CPU
Minimum system memory 8MB
PCI 2.1 compliant motherboard
MS-DOS 5.0 or later

MINIMUM SYSTEM CONFIGURATION -- MEGAMonster

Pentium II 233MHz or compatible CPU
Minimum system memory 8MB
PCI 2.1 compliant motherboard
MS-DOS 5.0 or later

Drivers

Windows 95 (DirectX 5.0), Windows NT 4.0
MiniGL for Windows NT 4.0 & Windows 95 DOS 5.0