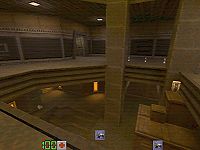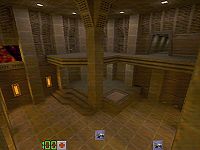 Munitions Dump (xdm1) by Alex Mayberry is a small, fast-paced map. Rooms are separated by short hallways, plenty of hardware and ammo is around, and it looks like it'd be good for maybe 8-10.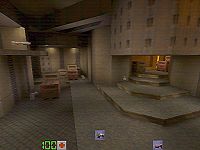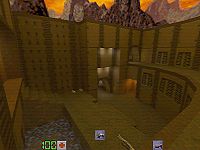 Deadly Reckoning (xdm2) by Dan Koppel has an intricate layout with teleports strategically placed to get you back in the action. A rather large-sized level, this one could probably hold 14-18, with plenty of "turn the corner" frags happening.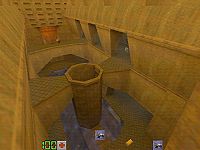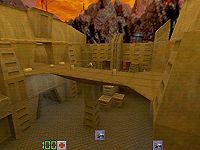 Reservoir Stroggs (xdm3) by Aaron Barber is a huge, intricate level with a lot of water and piping. This one could easily hold 20, or even more, due to small-sized open areas and lots of connecting passages.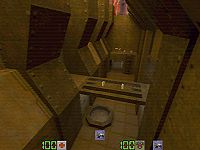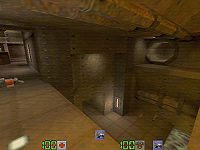 The Sludge Pit (xdm4) by Rhett Baldwin is filled with slime, along with a couple of button-operated bridges to either help you or hinder your opponents. A lot of narrow hallways with tall ceilings; be sure to look around to find any powerups. Small, tight, and/or narrow areas are the norm here -- the grenade launcher may be your best friend.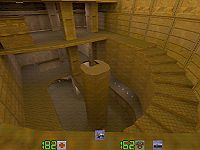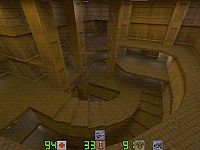 Stomping Grounds (xdm5) by Alex Mayberry and Aaron Barber is a huge, multilayered fragging arena. It's vaguely reminiscent of q2dm1, with the curved multi-level stairways. Check out those arenas in the shots; can you imagine having a grenade launcher with lots of grenades?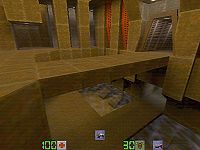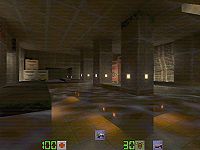 Hidden Agenda (xdm6) by Mal Blackwell is a level with a lot of water. The play areas are intricate and multi-layered, with weaponry scattered liberally about. Play areas are on the smaller end of the scale, with lots of obstacles (pillars and such) making this more of a railgun-type level than rocket launcher... unless you're feeling lucky.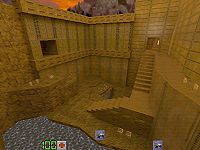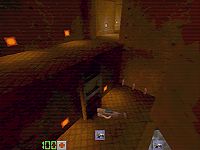 Xedge (xdm7) by Tim Willits and Mal Blackwell is our old favorite q2dm1... with a twist. Mission-pack-specific weaponry and ammo have been added, as has a passageway from the hole in the wall over the rockets to the railgun room. It's more than just a passageway; it's a new section back there. No more will you be trapped when you get the railgun.