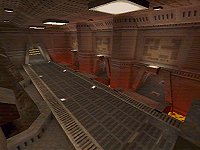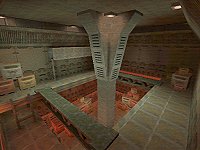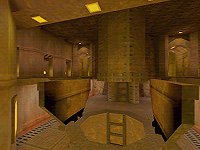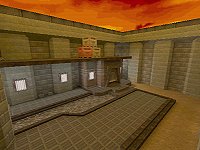 author: Warren Marshall. this archive contains four levels, linked together both thematically and plot-wise into a cohesive, interesting, and complete unit. unlike the previous unit reviewed here, these four levels are all unique, and have been built around the plot that the author has used. all of the levels in this archive share some common features: colored lighting has been used, but somewhat sparingly, and most of the lighting in these levels is of the bright white variety; play areas are comfortably large in most areas, including connecting areas; the running speed is fast and smooth; structures are clear as to their form and function; areas aren't cluttered with useless ornamentation -- everything in here seems to have a purpose; and the plot is advanced logically through each section.

Prisoner Containment (level1.bsp) is where you start. as in many other levels prior to this one, you're breaking out of a cell... but no level up to now has had this particular method of escape. from there, you're immediately thrust into a pretty severe battle for the shotgun and some shells; i was so busy trying to survive that i didn't notice the shotgun the first time. the F1 is solid and appropriate, and introduces you to the level nicely. this level has a nice semi-linear flow, with side areas to explore and other areas that are inaccessible (at first). the side areas fit the theme of this level well, and they make sense in the overall context of this prison. the architecture throughout this level is spare without being boring, with the judicious and careful application of textures being used to breathe life into otherwise flat surfaces. the pacing is good as well, with monsters becoming progressively tougher as the level unfolds. their placement and groupings, as with all else in this level, makes sense. this level also features good item and weapon placement. finally, the transition to the third level (the second time you come through here) is logical and explainable, and has been done very well.

Information Central (level2.bsp) seems to be the storage and main computer level in this archive. the continuity from the previous level to this one (crawling through some kind of access tunnel) has been pulled off smoothly and reasonably. no CD track has been specified for this level, but the F1 is, again, concise and informative. the intro combat sequence (as you exit the pipe) is a bit easier than it had any right to be, but maybe that's because i'm a coward and i lobbed grenades out of the pipe until they were gone... and the squishy sounds of gibbing monsters stopped. ;) also, the presence of berserkers on the floor, while you were still up on a rafter, made them very easy to kill. there's an interesting secret in this level that was fun to have discovered. excellent implementation of lighting effects in this one; colored lighting has been used in greater abundance than in the previous level (and used well, too), and some of the lighting "specials", like (surprise!) when you blow up the computer, have been smoothly applied. one nitpick about this level: there was very little opposition on my way back to the pipe after i destroyed the computer. this level might be good for deathmatch as well, due to its cross-connectivity and fairly large high-traffic areas.

Down Under (level3.bsp) is the level you proceed to after you've gone back through the first level again. the transition from there to here is as smooth and logical as the others in this archive. when you first arrive, you'll be in for a pretty tough fight; it's not the monsters that are difficult (though they can be) but it's not knowing the architecture at first that makes it hard and fun. this level sports the best use of colored lighting, in my opinion, in the entire archive. there is a whole lot of ammo in this level, but that's okay because the monster toughness and difficulty rises sharply; you'll need it. some very good combat sequences in this level, though the amount of health made recovery simple. this semi-linear level is composed of mostly hallways, but since the architecture and texturing is distinctive, you probably won't get lost. the author has used a number of "split-level" areas (when you see them, you'll know what i mean) that disoriented me more than i would have thought... i guess i'm used to the clear-cut over-and-under of Quake2. this is another potentially excellent deathmatch level, with the same traffic patterns and spacing that the previous level has. the secrets were easy to find (for me, anyway), and one has quite a bit of stuff in it, which made the rest of the level a lot easier than it had a right to be. nonetheless, i enjoyed this level the most of the four.

Main Gate (level4.bsp) is the "showdown" level. it consists of one hallway and a big outside area (see the bottom screenshot). just kill everything and you win. :) the monster placement in this one makes that a bit difficult, but not impossible, and it was fun trying to figure out how to take the least amount of damage. at the very end of the game, the player gets to see the courtyard from a different angle (instead of just exiting the level) until s/he presses the "fire" button, just like classic Quake.

all in all, a total package that is a whole lot of fun to play, and one that comes highly recommended. even if you're on a 28.8, this one's worth the time to download. get it now.